"A matter of timing"
Ord&Bild diagnoses Danish normality; Reset calls for an Italian integration model; Multitudes defends French society against the Republic; Arche isn't caught off balance by an early election; Akadeemia tells the secret story of the first Soviet atomic bomb; Kulturos barai deplores TV voyeurism; and du explores Ang Lee's film worlds.
Ord&Bild 4-5/2005

At first sight it looks as if the timing could not be worse. At the height of the global caricature conflict, Swedish Ord&Bild brings its readers a belated issue on Denmark – conceived and edited long before the daily newspaper Jyllands-Posten put the small country in the north and its problems handling cultural diversity at the centre of world attention. The failure of European politicians and media to comment systematically on the highly questionable Danish integration policy is what allows it to develop further, writes Cecilia Verdinelli in her editorial. Now European media discuss little else…
But what seems to be bad timing turns out to be the exact opposite. Ord&Bild addresses the deeper currents that flow beneath phenomena such as the Mohammed caricatures.
It would have been the easiest thing in the world to fill this issue with analyses of the xenophobic policy of the Danish coalition government, spiced up with quotes from Pia Kjærsgaard, the leader of the populist Dansk Folkeparti, explains Verdinelli. But in order to understand the politics of xenophobia, one has to understand the normality – the social, cultural, and political context – without which Kjærsgaard would be toothless.
Ord&Bild's take on Denmark ranges from poetry to politics. Stoika Hristova, novelist and priest in the Swedish Protestant Church, follows Sören Kierkegaard in his search for an idea to live and die for: "The way to God leads through sacrifice and suffering." Erik Berggren warns against the common thesis that xenophobia is latent in every society, there to be used by irresponsible politicians. Instead, he sees the Danish situation as a result of a goal-oriented and elaborate political campaign. And Roskilde-based social psychologist Lars Dencik mourns the passing of a special Danish joie de vivre and sense of community, now replaced by exclusion and narrow "Danishness".
The full table of contents of Ord&Bild 4-5/2005.

Reset 93 (2006)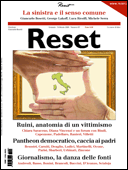 The closure of an Islamic school on via Quaranta in Milan last September shows that Italy's school system has yet to find a way to accommodate a rapidly growing Muslim population. Reset responds with articles on cultural diversity in Italian schools.
"In Italy, the relation between education and integration has clearly been shown with the recent events in the so-called Islamic school on via Quaranta", writes Corriere della Sera assistant director Magdi Allam. "This was not a real school, but a place of ideological indoctrination that began every morning, when the children's day started with a hymn inciting violence and conflict, and continued in class, where they learned that all Israelis are terrorists."
Italy lacks an equivalent to England's model of multiculturalism and France's model of assimilation. Most Muslims in Italy are not integrated, says Allam: "Many do not have an adequate understanding of either the Italian language or the culture, many know nothing about the Catholic religion (and one cannot respect what one does not know)." There is therefore no way for Muslim immigrants to feel themselves integrated into a common national identity.
"We have the responsibility to prevent [the events in London and Paris] from happening in Italy, to learn from the errors and experiences of countries that have preceded us in the history of immigration and integration."
Allam's article is complemented by Andrea Ranieri's "A third way between assimilation and ghetto"; Letizia Moratti, Minister of Education, on the successful cooperation between Moroccan and Italian schools; and Amos Luzzatto, President of the Union of the Italian Jewish Communities, on creating educated citizens capable of understanding and respecting differences.
The full table of contents of Reset 93 (2006).

Multitudes 23 (2005)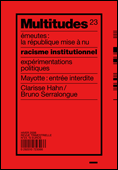 The fires in the French suburbs may have died out, but the issues they raise still smoulder. In his editorial for the latest issue of Multitudes, philosopher and economist Jan Moulier Boutang writes that the "apolitical" youths of the banlieue have stripped French Republicanism of the emperor's new clothes. Despite television's daily fare of suburban misère, French politics remains blind to minorities. "By screaming that the Republic is naked, the rioters took up the defence of society," writes Moulier Boutang. "And we state, calmly but firmly, so as to let them know that they are not alone: 'Society must be defended.'"
Following the enquiry in Britain in 1999 into the botched police investigation of the murder of black teenager Stephen Lawrence, the term "institutional racism" was coined to describe "The collective failure of an organization to provide an appropriate and professional service to people because of their colour, culture, or ethnic origin". Articles in a section on institutional racism include Jean Marc Salmon on inequalities in the French housing sector, brought to light after the death of seventeen African immigrants in a fire in their overcrowded apartment block in Paris last summer; Raúl Sanchez on the internment centres for migrants on Europe's borders that are the product of unjust European "migration management"; and Giuseppe Cocco and Antonio Negri on why black and indigenous movements in Brazil must reclaim "race", a category till now denied by official national politics, in order to force affirmative action in admission systems to universities and other institutions.
Also to look out for: a photo-documentary by Bruno Serralongue on Indian workers made redundant from shipping company AVCO Marine in 2003, with an essay by Alexandre and Daniel Costanzo on Serralongue's rethinking of the tension between art and politics.
The full table of contents of Multitudes 23 (2005).

Arche 1/2006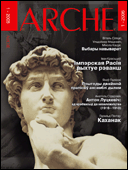 The echoes created by Eurozine's recent press presentation in Hamburg reached Belarus, where Radio Svaboda reported Arche's partnership in Eurozine. Editor Valer Bulhakau expressed his satisfaction that Arche's articles now reach an international readership; after a foretaste of the articles in Arche's latest issue, international readers will no doubt feel the same way!
Last December's announcement that the Belarusian presidential elections are to be brought forward almost six months to 19 March has been universally interpreted as an attempt by the incumbent president Alexandr Lukashenko to wrong-foot the democratic opposition. But the re-scheduling does not guarantee the Lukashenko government an advantage, writes political scientist Vital Silitski. While it limits the opposition's chances to get its campaign in order, it also shows that the government is seriously worried about an Orange Revolution in Belarus. One false step, says Silitski, could bring down the whole house of cards.
Philosopher Yanau Paleski seeks to separate the Belarusian language debate (see Piotr Rudkouski's The national language debate in Belarus) from that of national sovereignty, pointing out that both Russian nationalism – the official nation-state ideology – and the Belarusian nationalism of the Christian conservative Right suffer from "Moscow in the head". In this affliction, Moscow is seen either as "lack" or "excess". Paleski proposes instead "weak sovereignty", in which external influence is considered both normal and inevitable, and in which Moscow ceases to be a myth and becomes "simply Moscow".
Rather than arguing over who is or is not a "true Belarusian", writes theologian Piotr Rudkouski, "We have to free our minds from substantial-essential identity and direct our energy towards dialogue and mutual recognition." Rudkouski suggests the Christian idea of sobornost – "togetherness" – as a more personal, less idealistic way for Belarusians to think about self and other when seeking to answer the national question.
Also to look out for: Ivan Krastev on the revenge of imperial Russia; a conversation with Belarusian poet Janka Sipakou; and a translation of Harold Pinter's 1963 play The Lover.
The full table of contents of Arche 1/2006.

Akadeemia 2/2006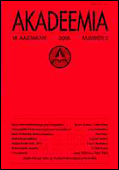 The development of its atomic bomb was one of the Soviet Union's best kept secrets. Only after the disintegration of the Soviet empire did information about the production of the atomic bomb begin to reach the public. Drawing on official publications as well as scientists' memoirs, Uno Veisman, astrophysicist at Tartu Observatory, provides an insight into the history and development of the first Soviet nuclear bombs in the 1940s and 1950s. The story reads like a cheap spy novel from the Cold War era.
Stalin's decision to begin the Soviet atomic programme was based on intelligence provided by Lavrenti Beria and a group of physicists. The Defence Committee established the top-secret Laboratory No. 2 in the first half of 1943. The first Soviet atomic bomb was a copy of the US plutonium bomb, the description of which was received from agents in Britain and the US. It was then up to the leader of the project, Igor Kurchatov, to present these foreign intelligence reports to his colleagues as his own research.
Approximately 300 German scientists and engineers were brought to the Soviet Union, none of whom were of great prominence in German physics, although they had rendered assistance in the implementation of nuclear technology. By the 1950s, the nuclear industry in the USSR employed more than 700 000 people, half of whom were prisoners. Due to poor safety measures and insufficient knowledge, many were subject to large doses of radiation.
Also to look out for: Enn Sarv on the National Committee of the Republic of Estonia, a resistance organization during the German occupation of Estonia between 1941 and 1944. The NCRE restored multi-party democracy in Estonia and, finally, the Estonian government and statehood. However, the second Soviet occupation after 1944 overthrew the organization and persecuted its members.
The full table of contents of Akadeemia 2/2006.

Kulturos barai 1/2006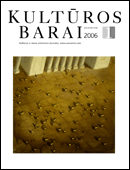 Imagine a television programme where unemployed mothers, sufferers of rare diseases, and down-and-out former celebrities allow their lives to be filmed in exchange for household appliances, medicine, and clothes. This and other equally incredible formats really are shown on Lithuanian television, reveals sociologist Rasa Balockaite in Kulturos barai. Drawing on anthropologist Oscar Lewis's theory of the culture of poverty, developed in his book La Vida (1966), and on historian Christopher Lasch's Revolt of the elites and the betrayal of democracy (1994), Balockaite describes how the Lithuanian poor are trapped somewhere between "mysterious other" and object of ridicule.
"The poor can neither talk for themselves, since they lack the ability to articulate and conceptualize their social and political experience, nor can they be represented by the upper class, which lacks basic experience of them. Captured in this double trap of representation, the poor and disadvantaged remain politically mute."
In "Art criticism in practice: Art theory recycled?", art critic and curator Laima Kreivyte laments that the Lithuanian cultural press has become an organ of institutional politics and self-promotion. For contemporary eastern European art critics, the alternative to this consumerist logic is to reclaim public space for critical debate, says Kreivyte. Coolturistes, a group of young female artists and critics, are doing just this with their strategy of "Miss-appropriation" – "the subjection of hard male buildings to soft female materials".
Also to look out for: Elvyra Markeviciute talks to Moscow theatre director Kama Ginkas about returning to his birthplace of Kaunas; and an excerpt from Virgilijus Cepaitis's memoirs of the Lithuanian independence movement Sajudis, in which he recalls the "honeymoon period" with the Lithuanian Communist Party in 1998, and Sajudis's links with the independence movements in Latvia, Estonia, and Belarus.
The full table of contents of Kulturos barai 1/2006.

du 1/2006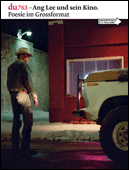 It was only in the 1990s that Ang Lee, director of Crouching Tiger, Hidden Dragon and, most recently, Brokeback Mountain (nominated for eight Oscars), started his career as a filmmaker. After nine outstanding films, Swiss journal du joins the star director to explore his film worlds – and to do a little cooking.
Films such as Sense and Sensibility (1995), The Ice Storm (1997), Ride with the Devil (1999), and the remake of Hulk (2003) show the spectrum of Ang Lee's artistic potential. With each film, he not only seems to reinvent himself as a film director, but also to revolutionize the genre.
Born in Taiwan in 1954, Lee moved to the US at age 24 to escape his authoritarian father, who wanted him to become a professor. In the Father knows best trilogy, consisting of Pushing hands (1991), The Wedding Banquet (1993), and Eat Drink Man Woman (1994), Chinese fathers and mothers and sons and daughters experience "their cultural collisions, catastrophes, and cathartic moments of understanding" – a digestion, at least in part, of his own experiences, it seems.
The well-illustrated issue includes a peek into Emma Thompson's film diary of Sense and Sensibility; some personal anecdotes by James Schamus, Ang Lee's producer and screenwriter; an account by Annie Proulx, author of the short story on which Brokeback Mountain is based, of her first meeting with the filmmaker; and a series of photos by Charly Kurz in the kitchen of the Peking Duck House Restaurant on New York's Mott Street, where the famous director is doing the thing he likes best after filmmaking: cooking.
Also to look out for: an interview with theatre director Christian Stückl, born in Oberammergau in Bavaria and director of the famous Oberammergau Passionplay, about this re-enactment of the story of Christ's crucifixion that takes place every ten years with lay actors from the village.
The full table of contents of du 1/2006.
This is just a selection of the more than 50 Eurozine partners published in 32 countries. For current tables of contents, self-descriptions, and subscription and contact details of all Eurozine partners, please see the partner section.