A late victory for socialist realism?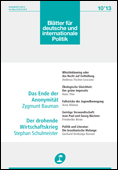 Following the agreement with Syria on chemical weapons, struck at the end of August at Moscow's bidding, the United States has suffered a "massive loss of influence in the Near and Middle East", writes Michael Lüders in Blätter (Germany). It is, above all, the United Nations that has benefited, he continues: a military strike on Syria by Washington, even if seconded by "wannabe great power" France, would have favoured the rule of might over right (formally known as international law), established with the invasion of Iraq a decade ago.
Realismo violento: A 20 centavo rise in the price of a bus ticket was all it took back in June of this year:
"Brazil's cities exploded in mass demonstrations, further aggravated by the billions that had been stuffed up the arses of the Fifa oligarchy for the football World Cup. One of the poetic demands of the protestors promptly ran: 'Schools and hospitals of Fifa-standards!'"
In an article on Brazil, special guest at this year's Frankfurt Book Fair, Gerhard Drekonja-Kornat continues, "Since then, Brazilian civil society has continued to seethe. 'Globo', Brazil's gigantic TV conglomerate, interrupted the daily telenovela for the first time ever in order to report live from the streets".

As if the literature alone wasn't reason enough, the prospect of finding out what's really going on in Brazil makes this year's offering in Frankfurt irresistible, in Drekonja-Kornat's view. His own tip – the strain of literature known as realismo violento:
"Much of this is rooted in Ignacio de Loyola Brandão, whose work is dominated by the difficult everyday life of the rising middle classes in the megacities, over which the rich fly their helicopters. His young successors are creating a specific form of Brazilian urban literature: laconic, no-frills, no tearful sentimentality, it has done away with all things provincial and displays a transcultural quality, with intellectual references to Japan or France."
The full table of contents of Blätter für deutsche und internationale Politik 10/2013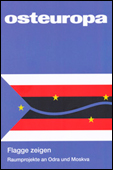 The poet and publicist Olga Martynova once summed up the 1990s as a period of literary diversity in Russia, whereas the years that followed signalled the return of literature for the masses, smacking of Soviet times and a "late victory for socialist realism" – a dig at the "new realists" grouped around Zakhar Prilepin. This is Karlheinz Kasper's point of departure in Osteuropa (Germany) for examining the latest and most celebrated Russian literature.
Martynova's comments may have caused indignation, but they didn't stop Prilepin receiving the 100,000 dollars that came with the award in May 2011 of the National Bestseller book of the decade (2000-10), for his novel Sin (2007). Indeed, he was in the running (for his novel Sankya, 2006) for The Russian Booker book of the decade too, which was finally awarded posthumously to the Chekov scholar Alexandr Cudakov (1938-2005) for his only novel, written in 1987 and first published in 2000.
Kasper looks ahead to the biggest Russian literary award, aptly named The Big Book Prize: second only to the Nobel Prize for Literature in terms of prize money. From the shortlist of eleven titles, he highlights three, including Alexander Terekhov's latest, billed as a novel of manners for the Putin era.
Kaspar's other two favourites support his observation of a current tendency for literature in Russia to take on a religious hue. He characterizes Maxim Kantor's Red Light as a "pamphlet for 'Christian communism'" (and compares it with William Vollmann's Europe Central of 2005); while Anton Ponizovsky's latest novel, according to one critic, reveals "the secret of the Russian soul".
The winner of The Big Book Prize 2013 will be announced at the end of November.
Also: Sebastian Kinder and Nikolaus Roos on "Nowa Amerika", an art project aimed at overcoming the legacy of old German-Polish divisions along former borderlands.
The full table of contents of Osteuropa 8/2013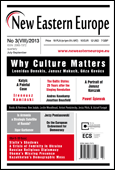 Launched in Prague in May 2009, the Eastern Partnership is intended to promote closer relations between the EU and Azerbaijan, Armenia, Georgia, Moldova, Ukraine and Belarus. In New Eastern Europe (Poland), Carl Bildt and Radoslaw Sikorski – the respective ministers of foreign affairs of the EaP's initiators, Sweden and Poland – sum up their hopes for the third summit of the EaP in Vilnius, Lithuania.
Drawbacks – such as Armenia's about turn in the form of its recently announced intention to join the Customs Union of Russia, Belarus and Kazakhstan – are also discussed. However, as Sikorski readily admits, "the Partnership is not a fix-all. It demands constant effort on both sides." A sentiment that Jana Kobzova, member of a London-based think tank, amplifies in a third article:
"When it comes to its eastern policy, the EU seems to have been suffering from attention deficit disorder. Moreover, having put the principle of 'more for more' (i.e. more funds and support for those countries willing to carry out reforms) at the centre of its neighbourhood policy, in practice the EU has mainly conducted its affairs with its eastern neighbours as if this principle was a purely rhetorical exercise rather than a guidance for its everyday actions."
Changes are taking place in the six post-Soviet states, but the EU will have to do more if it is to capitalize on them, concludes Kobzova.
Post-Soviet virtual reality: It's not only that "social media cannot substitute hard and patient party work or grassroots organizing", writes
Natalya Ryabinska in her penetrating contribution on "New media and democracy in post-Soviet countries", part of a special section on "Digital eastern Europe". There is also an array of techniques to contend with that governments use "to manipulate public opinion, to thwart online discussions on independent websites and undermine public trust in the independent sources of information on the Internet".
The full table of contents of New Eastern Europe 4/2013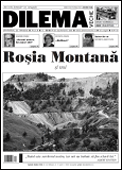 The debate on the exploitation of Carpathian gold reserves around Rosia Montana has provided a new social movement in Romania with unique momentum. Dilema veche dedicates two dossiers (501, 503) to voices on recent developments surrounding the project.
Gold rush: Political scientist Victoria Stoiciu (501) explains how attention has latched on to "the complex of problems and contradictions that the country is facing":
"Rosia Montana is more than Rosia Montana. The question concerning foreign investment is one of the most pressing ones. Like it or not, Romania is an economically dependent country that needs to attract foreign money to fuel the motors of development. Having admitted this, the really difficult questions start: do policies that are friendly to foreign investors mean rushing to accept all funds from outside the country at any cost without further reflection?"
Critical masses: Press voices may attempt to brand a generation of young people as "eco-terrorists". But Luiza Vasiliu speaks out for her generation, for whom the Romanian Revolution of 1989 that put an end to the communist dictatorship is only familiar second-hand: "We are beginning to educate ourselves politically and civically and to transform ourselves, slowly but surely, as some intellectuals predicted, into critical masses." Hence her euphoria: "Leaving home to join the protests with an uncharged mobile phone was like a '68 protester attending a demonstration without a brick in his pocket."
Activism: Stela Giurgeanu (503) remarks upon the sea change that the protests have brought about. After the "stolen revolution" of 1989, disillusion reigned as the Communist ruling elites stayed on and years of social paralysis set in. In contrast, today's street demonstrators "are enjoying the taste of fighting for 'principles', 'ideas' and 'long-term thinking'." At the same time, Giurgeanu expresses concern about the movement's lack of coherence and channels of information.
(For more on Rosia Montana, see Claudia Ciobanu's article published last month, entitled "The revolution begins with Rosia Montana".)
The full table of contents of Dilema veche 497-503 (2013)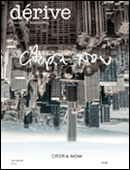 "We've waited long enough for the free society and the urban life. It's time to start implementing them", write the editors of dérive (Austria) in the current issue, which complements their festival "Citopia NOW", currently running in Vienna.
The urban life has yet to begin: Editor-in-chief Christoph Laimer suggests in a programmatic article on (urban) utopianism that the "right to the city" movements emerging everywhere realize Henri Lefebvre's "concrete, practicable utopia", which the French thinker considered achievable through autogestion. Laimer explains: "the transformation of everyday power structures through all those affected by them, a practice between self-empowerment, participation, self-government and appropriation that, for Lefebvre, has the potential to bridge the gap between reform and revolution."
"If we could mould a city from scratch, after our heart's desire, how would such a city look?": Building on the experience of the Occupy Sandy movement, where volunteers spontaneously helped victims of the 2012 hurricane, Peter Marcuse re-imagines the city "fashioned for the purpose of the enjoyment of life, rather than for the purposes of the unwelcome but necessary activities involved in earning a living":
"What the city needs is not redesign, but reorganization, a change in whom it serves, not in how it serves those whom it now serves. It needs a different role for its built environment, with changes adapted to the new role, not vice versa. A re-designed city is a means to an end. The end is the welfare, the happiness, the deep satisfaction, of those whom the city should serve: all of us."
The full table of contents of dérive 53 (2013)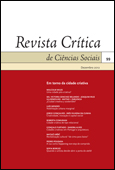 It's high time we rethought the model of the creative city, writes Malcolm Miles in Revista Crítica (Portugal). This culturally-led urban development model, developed in the 1990s as an answer to the de-industrialization of European cities, aimed at attracting the "creative class".
Cultural quarters, new art museums, cafés and bars were inserted into post-industrial zones, so that "the emphasis in the creative city is on the culture of consumerism, in which identities can be constructed through elite consumption". Miles shows how the creative class "colours the images for external perception on which a city's growth is based, privileging newness and modernization – now a byword for economic rationalization – over social cohesion or justice".
Drawing on the work of Naomi Klein, he expresses understanding for the anger of students, squatters and artists: "It is time for people to resist, rejecting neoliberalism's depolitization of society." Miles concludes that during the winter of 2011, it was Occupy that paved the way for the emergence of a "post-creative city": "This is a new revolution. What forms it will take as austerity pulverizes society and clarity dawns I cannot predict, but it will not go away."
Miles' article, entitled "A post-creative city", appears in the fifth RCCS Annual Review, available online from November.
The full table of contents of Revista Crítica de Ciências Sociais 99 (2012)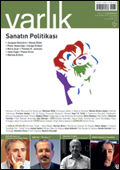 The Gezi Park demonstrations involved the artistic community in ways not seen for many years in Turkey and showed that the birth of a "poetic politics" is not as "distant or alien" as many in the country may have thought, writes Baris Acar in Varlik (Turkey).
The current issue re-examines the potential for, and power of, an aesthetics of politics. This includes the presentation of texts by the likes of Jacques Ranciere and Slavoj Zizek, with a view to establishing how these thinkers can help Turkey interpret the "spirit of Gezi".
Gezi Commune: Not for nothing did the foreign press refer to the "Gezi Commune", writes Cengiz Erdem: "As small-scale models of many conceptual structures", the clinic, library and free food distribution established within the park "demonstrated to the world that a state-free communism can be created".
The occupation of the park also represented "the greatest fear" of Turkey's ruling political party, the Justice and Development Party. It was a collection of individuals blind to religion, language, ethnicity and political views, who established an "evental site" (or site événementiel in Alain Badiou's parlance), a "space where the state oligarchy in the shape of the police force could not enter".
No role for the intellectual: Critic Feridun Andac also celebrates the communality of the movement in the park, where there was "no role for the intellectual figure and nothing for that figure to do". Instead, the activists were "able to progress without creating their own 'prophet': it was actually this that appalled the current government".
The ideal reader: Mehmet Rifat considers the textual implications that new Turkish editions of Orhan Pamuk's novels will have. My Name Is Red and Snow now appear with new afterwords and chronologies provided by the author. Such additions to a text are rare and warrant a reassessment of the novels in terms of the Nobel laureate's search for his "ideal reader", argues Rifat.
The full table of contents of Varlik 9/2013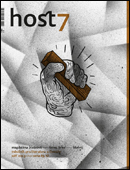 The focus of Host's current issue is the journal's home city of Brno – which the mayor claims is "not so much a city as a lifestyle". Writer and self-proclaimed "Brno adventurer" Barbora Antonová begs to differ: "Brno is not so much city as a diagnosis. A mental disorder. A city uncritically adored or critically loathed".
In lieu of stereotypes relating to the "last well-lit bend on the road to Vienna", Antonová offers an alternative version of the city's genius loci: "Instead of one distinctive spirit floating above Charles Bridge and Hradcany Castle, the air above Brno teems with thousands of tiny mischievous genies, conjured up by someone stroking a beer bottle, that refuse to be squeezed back in."
Café culture: Art historian and sociologist Rostislav Korycánek attributes the city's revitalization over the past two decades to commercial projects, the rejuvenation of the city's parks and, by no means least, the renewal of the city's pre-war Viennese-style café culture. He recommends looking out for cafés like Spolek, Studio Promiitacka, Art, Steiner, Minor, Podnebi and Tungsram.
Literature: Writer Magdalena Platzová talks to Ondrej Nezbeda about her latest novel, The Anarchist, which weaves together historical events – a Russian anarchist's failed assassination attempt on a US industrialist and art collector modelled on H.C. Frick – with the fictitious story of a Czech historian who visits New York to research the anarchist's life and encounters the Occupy Wall Street protests:
"I think we Czechs are afraid of open spaces, we tend to fence ourselves off and not to take ourselves too seriously. How can we, such a small country, write about big and serious issues? That's impossible, it would be ludicrous! With Americans it's the other way round: they take themselves very seriously. As a big nation with a big language they're born to cover 'big themes'. They overdo it as well, of course, and think they can write about everything. Which isn't quite true either, as they lack the experience."
Also: The first steampunk photo comic on Brno, by writer Patrik Linhart and photographers Josef Hlavaty and David Konecny.
The full table of contents of Host 7/2013