"A death can keep death away"
The New Presence is on the lookout for European identity; Osteuropa decides between parliament and the street in Hungary; Esprit redirects the pope's criticism from Muslims to Protestants; Le Monde diplomatique (Oslo) searches for the legacy of Anna Politkovskaya; Le Monde diplomatique (Berlin) observes China's political reaction to the environmental backlash; Akadeemia predicts a swing in the pendulum of Estonian theatre; and Host condemns contemporary Czech fiction.
The New Presence 3/2006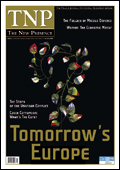 Does such a thing as European identity exist? ask the editors of the Prague-based "journal of central European affairs" in a special section dedicated to European identity and Europe's future. Czech Euro MP Jana Hybásková answers in an interview that only when she travels to the US does she feel the need to present herself as European. Otherwise she is a "Praguer". "Many people [in Europe] do not see Europeanism as a set of values, and they don't see it as an identity either", she says. "They will simply tell you they are from Paris, London, or Berlin."
Jiri Pehe, former political advisor to Vaclav Havel and now director of the New York University in Prague, is on the lookout for Europe's "virtual frontiers". He also finds that "any specific definition of Europeanism is problematic". "We are […] presented with the question of whether we wish to frame our European identity on rational notions of human rights and democracy, or on a cultural and religious heritage." French objections to Britain joining the EU in 1973 were based on geo-political (and not on cultural) arguments – Britain being an island with a specific history, Pehe points out. The accession of Portugal and Spain in 1986, on the other hand, was discussed against the backdrop of their recent fascist history and "the countries' ability to subscribe to the kind of democracy envisaged by the European project". Finally Greece, as the first Orthodox Christian country with a long Byzantine history to enter the EU – but with its ancient civilization at the very core of European identity – was in a similar situation as Cyprus (which entered in 2004) and Bulgaria and Romania (to join next year).

Further articles in the focus include Jirina Dienstbierová's account of a project with young artists who developed posters on European identity; and Borivoj Hnizdo's reflections on the role of learning other languages in promoting further integration.
The full table of contents of The New Presence 3/2006.

Osteuropa 10/2006
In Hungary, social consensus seems more intangible than at any point during the last 16 years, writes Thomas von Ahn in Osteuropa. Ferenc Gyurcsány may have won a parliamentary vote of confidence after his leaked speech in October, but the Hungarian socialist prime minister has forfeited much of the electorate's trust. Meanwhile, many think that the behaviour of the conservative opposition leader Viktor Orbán has bordered on the limits of the parliamentary system.
Following the leak of Gyurcsány's speech, Orbán and fellow Fidesz party members announced to crowds assembled on parliament square the need for the "reinstatement of the moral order". The audience included the children of a generation of low-skilled workers sidelined after the collapse of communism, as well as the families of victims of the Rákosi and Kádár regimes. These groups form Orbán's clientele, whose partially far-Right agendas he balances with political pragmatism.
Political wrangling is inseparable from the battle for the moral high ground in the memory of 1956, writes Ahn. Nationalists call it an "uprising", socialists a "revolution"; the only thing everyone agrees on is that it was not a "counter-revolution". With narratives about the past formulated differently according to party affiliation, a divided memorial culture has arisen. This causes many to fear that "it could turn out that the system change was ultimately a party-political project".
Also to look out for: Jiri Vykoukal on the misleading term "central Europe" – the Visegrád states belie the promise of cultural homogeneity and lack a tradition of cooperation, he writes. And Kai-Olaf Lang on Germany's political cooperation with the Visegrád states as a bloc, which has been passed over in favour of bilateral relations with Poland.
The full table of contents of Osteuropa 10/2006.

Esprit 11/2006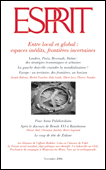 Local strategies, global spaces, uncertain borders, changing places: Esprit continues an ongoing focus on urban development.
Taking a walk down London's Portobello Road, Thierry Naudin notes the "changes the area has gone through over time: from the highly colourful locus of successive waves of immigration into a faux-Bohemian ghetto for those who got rich on the 'new economy'". Recent developments have triggered a number of shifts, he writes, destroying the cultural strata that had built up in the area along with the imaginary spheres that made its unique spirit.
Political scientist Joseph Bahout describes how, since the 1980s, Dubai has taken inspiration from Beirut's developmental strategies of the 1970s. "However", he writes, "as it looks to reap the full benefits of the local impact of globalization […] Dubai's drive has a feedback effect on Beirut's own attempts to claim its place again in international business flows." And architect Albert Levy investigates the case of a project on Paris's Left Bank, which, he says, epitomizes the three major upheavals that urban planning in post-industrial societies is going through.
The pope's Regensburg speech: Philosopher Christian Jambet discusses Benedict XVI's misleading quote in Regensburg. It was not made at random, he writes. Rather, it refers back to twentieth-century French Christian scholars of Islam who supported Muslim resistance to colonial rule. In doing so, they brought Islam's great mystics to the fore. "Against this background, one would be wrong to think that the pope came in support of any bellicose stance or a confrontation between the 'free world' and Islam."
Olivier Abel, philosopher at the Protestant Theologian Faculty in Paris, sees the Regensburg speech as a strictly internal affair for the Western world. The pope's main target, he writes, was the Protestant faith, with the spectre of sectarian utopias and the consumer individualism that go with it.
Also to look out for: Franck Baetens proposes a mythological reading of Zidane's head-butt; and Marie Mendras commemorates the oppositional Russian journalist Anna Politkovskaya.
The full table of contents of Esprit 11/2006.

Le Monde diplomatique (Oslo) 11/2006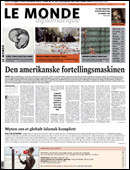 The Norwegian edition of Le Monde diplomatique dedicates a full broadsheet spread to the murder of Anna Politkovskaya and the legacy she has left behind in Russian media and society.
Natasza P. Sandbu talks to Politkovskaya's colleagues at the Moscow paper Novaya Gazeta. The first days of despair have passed and the atmosphere in the editorial office is one of subdued and paradoxical optimism. "The support from outside has been overwhelming", says editor Andrei Lipsky. "There's a Russian saying, 'One death can keep death away'. Something new is created. That's how I feel about Anna right now."
Novaya Gazeta's vice editor-in-chief Vitaly Yaroshevsky is confident that the paper will find Anna Politkovskaya's murderer. They have done it before; since the newspaper was founded 13 years ago, five colleagues have been killed. In fact, Russia is the world's third most dangerous country for journalists to work in, after Iraq and Algeria. According to the report Deadly News, 42 journalists have been killed in Russia since 1992. Most of these murders are still unsolved.
Alongside additional comments from Russia and Norway, which are anything but optimistic, the journal publishes Politkovskaya's last, unfinished article about torture in Chechnya.
Machines and Eros: Since the dawn of philosophy, philosophers have marvelled at the relationship between man and machine. Norwegian diplo editor Truls Lie follows this line and sees the machines change from simple tools and mechanical devices to today's electronics and computers. Youtube, the film website created by its users and recently sold to Google for 1.65 billion dollars, is a colossal machine, writes Lie, "a social apparatus integrating people from all over the globe":
We chose long ago to live with technology around us and as part of us […] The machinal in us is also driven by an eros, a natural desire – desiring machines that drive us, that liberate powers, that connect and interconnect us. […] Beyond the mechanically-machinally-industrially homogenous comes mental-electronic-machinal heterogeneity. This driving force can be found in the phrase 'You tube'.
The full table of contents of Le Monde diplomatique (Oslo) 11/2006.

Le Monde diplomatique (Berlin) 11/2006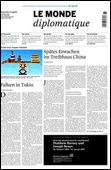 China is caught between the devil and the deep blue sea, writes Agnès Sinai in the German edition of Le Monde diplomatique. Economically booming, the country is now experiencing the downside of industrialization: climate change has led to food and water shortages. Realizing that a further rise in poverty will threaten political stability, the government has begun to react.
Apart from investing in nature reserves and non-fossil energy projects, the government even tolerates the over 100 environmental NGOs that have emerged within the last 5 years, which it sees as a kind of pressure valve for a developing society. For the new measures to be effective, global cooperation is necessary but also problematic. "European lobbyists might try to unhinge the newly established Chinese environmetal standards", fears Anja Köhne of the WWF. Yu Jie, spokesperson for Greenpeace China, also complains that "the clean technologies, such as wind energy, are in the hands of northern businesses. We have to buy them from Europe at a high price. For years they have been promising a transfer of technologies, but nothing has happened".
Washington vs. Moscow: Georgia is caught in the "Vicious Caucasian circle", finds OSCE correspondent Florence Mardirossian. Abkhazia and Ossetia, two self-proclaimed republics that separated from Georgia in 1991, are constantly threatened by Georgia's military attempts to force reintegration. At the same time, the area is torn between the interests of Russia and the US: For the US, it lies in "the area between Mauretania and Kazakhstan, which according to the 'Bush Doctrine' is the area to be democratized […] to be brought into line with the US's economic and political interests, and where military checkpoints should be established".
For this, the US has long been a supporter of Georgian President Mikheil Saakashvili, who has promised cooperation with the West. Moscow sees a threat to its influence in the Caucasus, where its peace corps have been encouraging stability. Recently, Russia's role has been recognized by the UN Security Council, which led to the end of the US backing of Saakashvili's authoritarian regime, leaving Georgia in a constant and violent crisis with Russia.
Also: Christopher Alan Bayly reconstructs the global history of the natural sciences.
The full table of contents of Le Monde diplomatique (Berlin) 11/2006.

Akadeemia 11/2006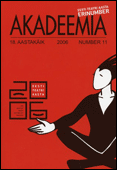 In an issue dedicated to Estonian theatre, critic Jaak Rähesoo follows its history through the lenses of two models: native roots and the kaleidoscope. Around the turn of the twentieth century, Karl Menning, the leader of the Vanemuine Theatre in Tartu, saw an orientation towards the native as an aesthetic necessity, claiming that all imitations were bound to be artistically second-rate. But Menning did not search for national spirit in a distant, hypothetical past. Instead he accepted the cultural loans that had already become integrated into Estonian life and found his inspiration in realism.
In opposition, the literary and artistic group Noor-Esti advocated a kaleidoscope model of wider and more varied borrowings from other cultural sources. Their idea found success in the first half of the twentieth century. But the Soviet occupation (1940-1991) and the Iron Curtain prompted first a return to pre-war cultural norms in the form of native plays, and then a feeling of isolation, leading to attempts at smuggling in Western influences.
The disillusionment of the 1970s again strengthened an interest in national subjects, which in extreme cases led to a search for roots in an alternative kaleidoscopic spectrum: hypothetical connections with Siberia, Native American cultures, and Far Eastern civilizations. Independence in the 1990s brought back the influence of the West, but the new century has seen a growing number of native plays – perhaps another swing of the pendulum.
Also to look out for: Luule Epner on the revolution in Estonian theatre at the beginning of the 1970s, driven by dissatisfaction with the clichés and triviality of realist theatre; Ingo Normet on the paradoxes of training young actors; and Talvo Pabut on the impossibility of defining a single author of a theatrical text.
The full table of contents of Akadeemia 11/2006.

Host 9/2006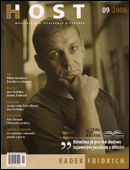 The cover of the latest Host features poet Radek Fridrich, famous for his appearance in filmmaker Bretislav Rychlik's God's Stonepit. In the film about northern Bohemia, Fridrich was portrayed as a quirky poet who rode around run-down German graveyards writing down the inscriptions on tombstones. In reality, he's a gifted poet of the younger generation and a literature teacher at the University of Usti nad Labem. In interview, he talks about his search for identity in his poetry, confronting his Czech and German heritage.
In his critique of contemporary Czech fiction, Jiri Travnicek identifies an "aestheticizing of banality: when you have nothing to say, you say it in a most 'artistic' way". He sees this "depth without surface" in poet Pavel Kolmacka's new novel Stopy za obzor [Footprints leading behind the skyline]. Travnicek also finds the novel guilty of reliance on personal testimony, another deadly sin of contemporary writing: "Where do Czech writers, especially the young and younger ones, find their conviction that precisely their lives and various autobiographical feelings are what they should inundate us with?"
Second-hand bookshops: Are second-hand bookshops losing their importance? Before 1989, they were centres of the cultural "grey zone" in Czechoslovakia, where books that had been expelled from libraries in the early 1970s could be found. But what is their role today? Petr Bouda, a Brno-based second-hand bookseller whose career stretches back to the 1970s, tries to find an answer.
The full table of contents of Host 9/2006.

This is just a selection of the more than 50 Eurozine partners published in 32 countries. For current tables of contents, self-descriptions, and subscription and contact details of all Eurozine partners, please see the partner section.